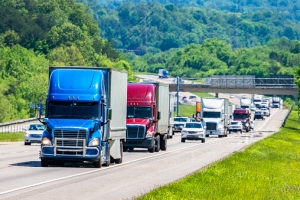 The Last Mile for Retail
Has brick and mortar retail taken its last breath? When the internet became public in 1991 it dramatically changed the way we shop. Almost 20 years later online shopping is preferred by a little over half of consumers, this has taken its  toll on the brick and mortar stores. Over the years even some of the major retailers like Sears and Kmart failed to evolve and perished. According to the U.S. Department of Commerce, in 2019 alone, U.S. consumers spent $601.75 billion online, an increase of 14.9% from the previous year.  This is almost double from the number in 2016 and the projections naturally showed a percentage growth f0r 2020 and then. . .
Covid-19 effects on retail
Projections for 2020 went out the window when Covid-19 shut down stores in March and the on-line demand skyrocketed. Now that we are in the aftermath, the only retail survivors have been forced to adapt.   Big box retailer Best Buy is a great example of a business who has adjusted their business practices and also how the end is coming for the bricks.  When the ability to reopen was presented Best Buy was among the first to open its doors, but only partially.  They had a station set up outside their doors so consumers could order products online and pick them up curbside.  Now they have opened the stores back up with mandatory masks and a check in at the front of the store. Shoppers let the associate know which department they need and provided it isn't at its covid max they are able to go browse that section. Best Buy seems to be doing all they can until consumers are actually doing the browsing. Many stores, Best Buy included, are limiting their inventory.  The associates are telling customers if they want more selection they should look online. Even Wal-mart who was able to remain open during the pandemic has thinned out their inventory and placed pick up lockers in the entrance for online purchases in some locations.  For the younger generation this is a welcome shift according to studies 55% of the 17-34 crowd prefer online shopping.  Prior to corona there were still a few generations of shoppers that prefered shopping in a store, 57% of people over 34 to be exact. Now with masks, rules and less inventory those online hold outs are more likely to convert. 
Last Mile Delivery
How does a dramatic shift in shopping habits affect the supply chain?  In the past 3 years there has already been a shift in the supply chain and a hyper focus on last mile delivery.  What retailers need from the supply chain are flexible delivery options from the warehouses to the consumer. Consumers want products delivered immediately and have come to expect it. The challenge is that the last mile is both the most expensive (53% of the overall shipping costs) and time consuming part of a goods journey.  Consumers not only want fast shipping they are increasing their demand for free shipping.  Companies who offer flexible options are the most likely to succeed, such as offering same day at a cost delivery, free shipping for broader time periods and cost for specific time deliveries. Giving the consumer more options actually saves failed deliveries thus saving cost. Optimizing routes will also reduce time and costs for companies helping them deliver the expected customer service experience (55%of consumers said they would switch companies for faster delivery, however 73% said that a convenient delivery time was more important than speed). Many businesses will need to rely on automated software programs to coordinate routes and drivers just to keep up with demand. Target, Wal-mart,  and many others are pushing easy options to help consumers drive the last mile.  Special parking and curbside delivery are the new norm.  They are basically distribution centers that allow pick up and consumers are embracing it. There is also an entire third party industry now with companies such as post mates outsourcing the last mile to independent drivers. 
The ball is in motion
The ball that started rolling in 1991 has been picking up speed over the years and the virus just motorized it. Forbes put out a list of major retailers that closed stores this year and the total was over 14,000 stores closed so far in 2020 up from 2019's 9,879 closures. Many of the companies shuttered in the first month of the pandemic were already in turmoil. If the big boxers are not going to survive is there hope for the independent retailers? A percentage of retailers can survive by focusing on the customer experience. There is still 57% of a large demographic that craves an in person experience. With the shopping at the remaining big boxes becoming more of a distribution center to pick up items small businesses can capture those seeking an experience or connection. 
The playoff season for retail and the supply chain has always been the holiday shopping season This year's predictions, may really be just that with covid-19  being a novel factor. According to Deloittes annual holiday retail forecast  sales are likely to be an increase of 1% and 1.5% over last year. (between $1,147 billion  and $1,152 billion). Both industries must brace themselves for impact.  Staggering unemployment may reduce spending this year significantly and yet holiday shopping is often an emotional pick me up for many people which could increase spending. Perhaps the holidays can revive retail for another year but it seems like brick and mortar may be on its last mile. 
/wp-content/uploads/Outsource-Logistics-Black-300x172.png
0
0
Kaisa White
/wp-content/uploads/Outsource-Logistics-Black-300x172.png
Kaisa White
2020-09-29 15:16:52
2020-09-29 15:16:52
The Last Mile for Retail